Howdy Pardners!
Your friends in Prospect Falls have their own hopes & dreams and story to tell. Take part in these 10 bonus repeatable missions to live their tales and get cool prizes!
Must be at least Level 15

10 new repeatable missions that for both homestead & Prospect Falls

New Sweepstakes **void where prohibited
DIFFICULTY
We anticipate this is will be a long-term feature for most players and that the difficulty level is medium-to-high.
__________________________
Wrapper Missions
Whole Lotta Work Ahead
Use a Mineshaft 9 times
Complete the 2nd Prospecting Tales mission twice
Complete the 3rd Prospecting Tales mission twice
Reward: 300 XP, 5 Golden Tickets, 5 Copper Cows
The Rich Get Richer
Use a Rocky Mine 5 times
Complete the 5th Prospecting Tales mission twice
Complete the 6th Prospecting Tales mission twice
Reward: 600 XP, 10 Golden Tickets, 5 Cantaloupe
A Midas Touch
Use a Blast Mine 3 times
Complete the 8th Prospecting Tales mission twice
Complete the 10th Prospecting Tales mission twice
Reward: 1000 XP, 25 Golden Tickets, 3 Cave Truffles
Repeatable Missions:
Striking it Rich
Collect 20 Rough Sand (Prospect Falls)
Ask for 15 Mining Certificates
Use Mineshafts 6 times in Prospect Falls
Reward: 100XP, 1 Golden Ticket, 3 Bronze Pigs
A Growing Boom Town
Collect 5 Pure Water (Prospect Falls)
Tend 15 Bronze Pigs (Prospect Falls)
Chop Redwood Trees 40 times (Prospect Falls)
Reward: 200XP, 3 Golden Tickets, 2 Copper Cows
B and B Publicity
Tend 20 Neighbor Sheep
Ask friends for B & B Reservations
Tend 50 Cows on your homestead
Reward: 300XP, 2 Golden Tickets, 3 Cream Cows
Homestead Neglect
Craft 10 Cajun Peas
Harvest 50 Apple Trees
Sell 15 Adult Moose (free gift page)
Reward: 400XP, 4 Golden Tickets, 2 Cocoa Trees
The Un-Friend Zone
Clear 35 Wildflowers in Prospect Falls
Collect the Daily Bonus from 3 Mining Suppliers in Prospect Falls
Craft 10 Spiced Pumpkin Pies
Reward: 500XP, 5 Golden Tickets, 5 Golden Chickens
Mae Blastin Away
Clobber 3 Outlaws in Prospect Falls
Collect 10 Silver Wool in Prospect Falls
Craft 5 Powder Packs in Prospect Falls
Reward: 600XP, 6 Golden Tickets, 3 Silver Sheep
Returning the Kindness
Harvest 40 Tomatoes
Ask friends for 20 Massage Coupons
Collect the daily bonus on your completed Stagecoach
Reward: 700XP, 8 Golden Tickets, 1000 Coins
Cashin In
Harvest 30 Artichoke in Prospect Falls
Use a Sluice 5 times
Ask friends for 20 Inventory Lists
Reward: 800XP, 8 Golden Tickets, 1 Cave Truffle
Lock-N-Love
Use Sheriff Mae to blast 3 Outlaws
Ask for 20 Love Bullets
Collect 20 Golden Eggs
Reward: 900XP, 10 Golden Tickets, 5 Boysenberry Crops
Takin er Easy
Craft 4 Chocolate Chip Cookies
Harvest 40 Cocoa Trees
Tend 30 Cream Cows
Reward: 1000XP, 12 Golden Tickets, 5 Sugar Cane
New Sweepstakes: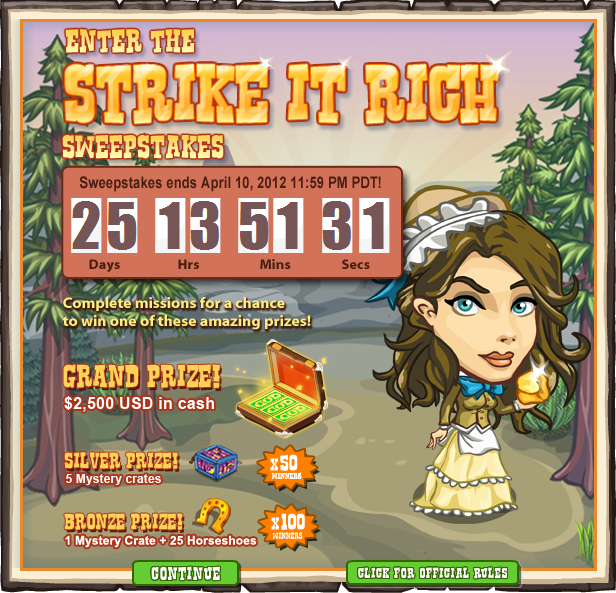 Pioneer Trail Forum
____________________