Your citizens now have a brand new attraction to play with! The Executive Driving Range!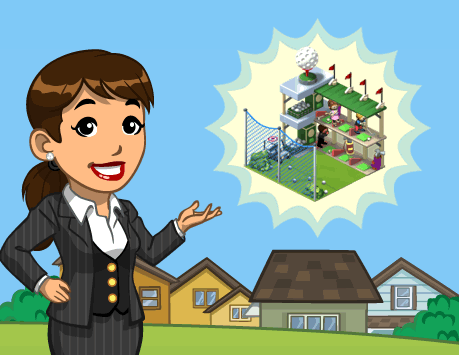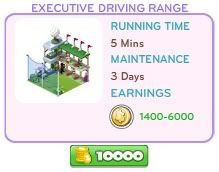 Benefits
High payout
Does not need goods
Fun to watch!
Summary FAQ
Q: Can I have all 4 attractions running at the same time?
A: Yes.

Q: When I click on the Executive Driving Range to ask for wrenches it says "Sorry you already asked for help", but I haven't asked yet, why?
A: Requests from all four attractions are treated as one request, since all 4 rides use the same wrenches.
Part 1: Building your attraction
The Executive Driving Range can be found in the build menu under Businesses->Attractions, or by searching for "Executive Driving Range ". Once you have purchased it, place it to begin construction.






After completing the last step, click on the unfinished Executive Driving Range to bring up a list of items you will need to finish it. You can get these by sending requests to your friends and posting requests to your feed, as well as by purchasing them with City Cash. Once you have gathered all the parts, just click on "Finish Building" to complete the construction.


Part 2: Using your attraction
Once your Executive Driving Range has been completed, click on it to start the ride.






After 5 minutes the ride will complete and you will be able to collect from it like any other business.





The Executive Driving Range is a great addition to your attractions; build yours today!